A wise person once said, 'You reap what you sow.' In order to make menopause easier, you must sow good diet and lifestyle habits today to cultivate a healthier life in the future. Your present style of diet and lifestyle will determine how your body reacts to the symptoms and effects of menopause.
Whether you are in your puberty, pregnancy stage or in your early 40s, being well informed about menopause will make it easier to deal with later.
Let's begin by talking about how to deal with the effects during the time of menopause
Menopause is not a disease! It is a natural process that takes place for women aged 45-55. Sometimes, people also experience early menopause, which is happening because of an increasing stressful lifestyle. The more the stress, the lesser the estrogen hormone.
So what exactly is menopause?
During menopause, the estrogen level in our body decreases and affects the ovary functioning.
Estrogen is a sex hormone that is important for developing female reproductive system. It helps protect against free radicals and maintains the balance between good & bad cholesterol.
Along with that, the primary reason women during menopause experience symptoms of mood swings, irritability, tiredness and night sweat is because of low estrogen level as it creates hormonal changes. Other common effects of menopause are vaginal dryness, irregularity in sleep pattern, hot flashes and even increased belly fat.
Have you noticed yourself or your mother getting irritated at small things and is constantly angry. This may be due to hormonal imbalances. So how can we make menopause easier?
Here are some simple yet effective diet and lifestyle practices for an easy menopause:
Hormonal changes can cause bones to weaken and fasten the ageing process because the estrogen hormone which maintains free radicals is decreasing.
Dietary changes
Antioxidant rich food such as fruits and vegetables, especially leafy vegetables such as spinach, broccoli, kale, tomato and eggplants must be part of the diet. This will not only stabilize hormonal imbalances but also control the aging process.
During menopause, phytoestrogen food is the most important dietary item as it helps to produce estrogen hormones in your body. Such food items include white chickpeas, soya products, lentils, tofu, flax and sesame seeds.
I've often noticed that eating chickpeas can create acidity problems. This happens because of weak stomach lining, as it cannot digest protein properly. To avoid this and make the menopause easier, focus on creating a proper diet routine.
Menopause is a stage where every woman can easily trap herself in a cycle of hypertension or catch diabetes. Therefore, a proper diet routine needs to be followed wherein you take out time for yourself and focus on the needs of your body.
Eating just three main meals a day at random times will only create problems for your body. Many women who consult us during their time of menopause tell me that their diet includes having three meals and consuming tea twice in a day. This is not an ideal routine, especially during menopause. You need to include antioxidant rich items and phytoestrogen foods in your diet routine.
Another food category that we need to include in our diet is high fibre foods. Menopause is a time where problems of heart diseases can easily be experienced. As I mentioned before, estrogen maintains the balance between good and bad cholesterol. So if estrogen level keeps on reducing, it will create cholesterol imbalances and lead to heart problems. Therefore, high fibre foods can be gained through a healthy intake of fruits and vegetables.
A diet rich in calcium, omega-3, iron and magnesium needs to be a part of your diet to make menopause a peaceful process. Nuts and seeds are the best way to include all these vitamins and minerals. My advice would be to start your day off with some nuts, seeds, and fruits instead of a cup of tea.
Believe me, this will prepare your body and make it ready to start your day with full energy and reduce your mood swings.
To reduce hot flashes, maintain a good intake of water. Drinking 8-10 glasses of water can help reduce hot flashes, bloating problems and reduce other symptoms like dryness and weight gain. Always keep a water bottle and a coconut slice near you. This will help you feel energetic and also keep you hydrated.
Lifestyle modifications
Along with dietary changes, a proper sleep schedule is one of the most important life modifications. An inadequate sleep cycle will increase irritability and mood swings. Therefore, try going to bed as early as possible and maintain the sleep schedule.
If you engage in using your phones before sleeping, it will contribute to an improper sleep. Your mind needs to be relaxed in order to get a good sleep. So try reading a book, meditating or engaging in positive family time instead of using your phone. You could also try drinking sunflower tea or organic milk with 1/4th spoon of jaiphal (nutmeg powder) for a peaceful sleep.
Also remember to always sleep in a pitch-dark environment. This allows our hormones to relax as our body can synchronize with the lunar cycle, which is scientifically proven by many studies.
Regular exercise is another mandatory lifestyle change. When you reach the age of 45-55, it is very difficult to stay active. This happens because our body is not used to exercising. Whether you are 14 or 60 years old, everyone should have a routine for exercising. That's why, irrespective of your age, start exercising to make your future journey of menopause easier.
Mothers who used to lift heavy buckets of water and continuously work, did not need to exercise regularly as their work naturally embedded strength training. But as our lifestyle changes to a sedentary mode of living, our body needs strength training in order to function properly when we reach our early 50s. Even if you just work out for 2-3 days in a week, your body will do wonders for you.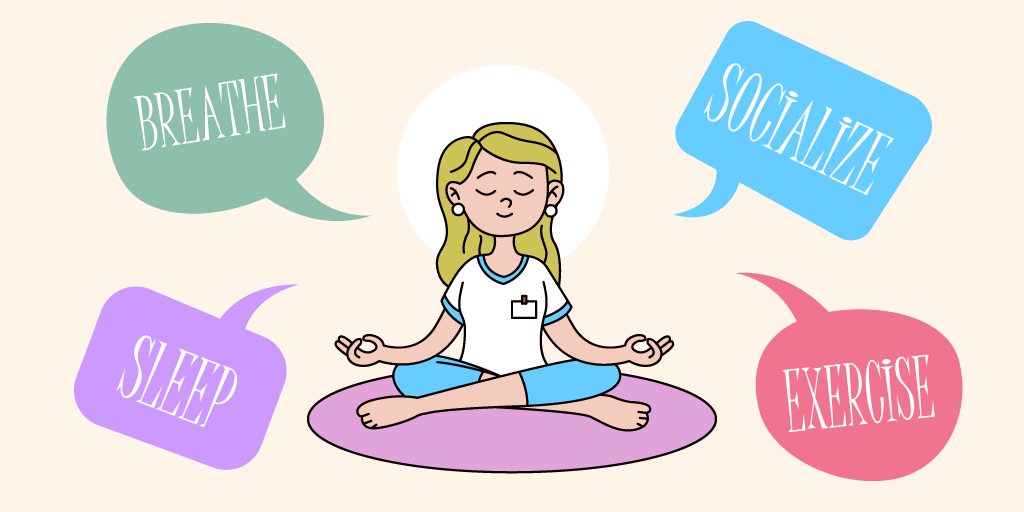 The last but most important lifestyle modification which our body needs during menopause is the ability to manage stress. I agree that the early 40s and 50s can be stressful as our children are growing up, some are getting married, while others are moving abroad, and so on. There are a hundred things on our mind, but remember menopause is all about self-care.
During menopause, our body is requesting us to take some time to look after yourself. All this time, you have been working hard, but now your body is demanding the time to relax.
If we don't take care of our body, how will our body be able to take care of us? Taking care of your body since an early age will only make menopause easier.
So start making these dietary and lifestyle changes from today onwards because "aaj nahi toh kabhi nahi".
I hope this was helpful not only for women who are currently facing menopause but also to every other female who will face it later in their life.